Aging in Organ Transplantation
The aging global population has had a significant effect on organ transplantation.  Over the last decade, the number of patients > age 65 on the waiting listed for an organ transplant has tripled.  Moreover, to meet the ever increasing demand, more marginal organs are being used for transplantation.
The phenomenon of an age-dependent immune response to exogenous antigens is termed immunosenescence. Clinical studies show broad effects of immunosenescence on all immune compartments with relevance for transplantation. Therefore, a detailed comprehension of immunological alterations with aging bears the potential of adapting immunosuppression, or to utilize physiological aspects of immunosenescence to modulate immune responses.
Older organs are not only more sensitive to injury, they also have an augmented immunogenicity that shapes immune responses after transplantation. Our lab investigates these mechanisms with the goal to improve treatment and to increase the utilization of older organs.
Krenzien F, Quante M, Heinbokel T, Seyda M, Minami K, Uehara H, Biefer HR, Schuitenmaker JM, Gabardi S, Splith K, Schmelzle M, Petrides AK, Azuma H, Pratschke J, Li XC, ElKhal A, Tullius SG.   Age-Dependent Metabolic and Immunosuppressive Effects of Tacrolimus.  Am J Transplant. 2016 Oct 18.

Seyda M, Elkhal A, Quante M, Falk CS, Tullius SG. T Cells Going Innate.  Trends Immunol. 2016 Aug; 37(8):546-56.

Tullius SG. 

Vascular composite tissue transplantation: achievements and challenges in a rapidly developing field. 

Transpl Int. 2016 Jun;29(6):643.

Mukundan S, Steigner ML, Hsiao LL, Malek SK,

 

Tullius

 

SG, Chin MS, Siedlecki AM. Ferumoxytol-Enhanced Magnetic Resonance Imaging in Late-Stage CKD.

 Am J Kidney Dis. 2016 Jun;67(6):984-8.

Chandraker A, Arscott R, Murphy G, Lian C, Bueno E, Marty F, Rennke H, Milford E,

 

Tullius

 

S, Pomahac B. Face Transplantation in a Highly Sensitized Recipient. 

Mil Med. 2016 May;181(5 Suppl):221-6.

Aycart MA, Alhefzi M, Sharma G, Krezdorn N, Bueno EM, Talbot SG, Carty MJ,

 

Tullius

 

SG, Pomahac B. Outcomes of Solid Organ Transplants After Simultaneous Solid Organ and Vascularized Composite Allograft Procurements: A Nationwide Analysis.  

Transplantation. 2016 May 2. 

Gabardi S,

 

Tullius

 

SG, Krenzien F.Understanding alterations in drug handling with aging: a focus on the pharmacokinetics of maintenance immunosuppressants in the elderly. 

 Curr Opin Organ Transplant. 2015 Aug;20(4):424-30.

Exterkate L, Slegtenhorst BR, Seyda M, Schuitenmaker JM, Quante M, Uehara H, El Khal A, Tullius SG. Frailty and Transplantation. 2015 Dec 22.
Krenzien F, ElKhal A, Quante M, Rodriguez Cetina Biefer H, Hirofumi U, Gabardi S, Tullius SG. A Rationale for Age-Adapted Immunosuppression in Organ Transplantation. Transplantation. 2015;99(11):2258-68.
Seyda M, Quante M, Uehara H, Slegtenhorst BR, Elkhal A, Tullius SG. Immunosenescence in renal transplantation: a changing balance of innate and adaptive immunity. Curr Opin Organ Transplant. 2015; 20(4):417-23.
Hernandez RA, Malek SK, Milford EL, Finlayson SR, Tullius SG. The combined risk of donor quality and recipient age: higher-quality kidneys may not always improve patient and graft survival.  Transplantation. 2014;  98(10):1069-76.
Slegtenhorst BR, Dor FJ, Elkhal A, Rodriguez H, Yang X, Edtinger K, Quante M, Chong AS, Tullius SG. Mechanisms and consequences of injury and repair in older organ transplants.  Transplantation. 2014;15;97(11):1091-9.
Hock K, Oberhuber R, Lee YL, Wrba F, Wekerle T, Tullius SG.: Immunosenescence does not abrogate engraftment of murine allogenic bone marrow. Transplantation. 2013; 95(12):1431-8.
Oberhuber R, Ge X, Tullius SG. Donor age-specific injury and immune responses. Am J Transpl, 2012: 12(1):38-42.
Tullius SG, Milford E. Kidney allocation and the aging immune response.  N Engl J Med. 2011; 364 (14): 1369-70.
Tullius S.G., Tran H, Guleria I, Malek S, Tilney N, Milford E. The combination of Donor and Recipient Age is critical in determining host immunoresponsiveness and renal transplant outcome.  Ann Surg. 2010; 252:662-74.
Denecke C, Bedi DS, Ge X, Kim IK, Jurisch A, Weiland A, Habicht A, Li XC, Tullius SG. Prolonged graft survival in older recipient mice is determined by impaired effector T-cell but intact regulatory T-cell responses. PLoS One. 2010; 5:2.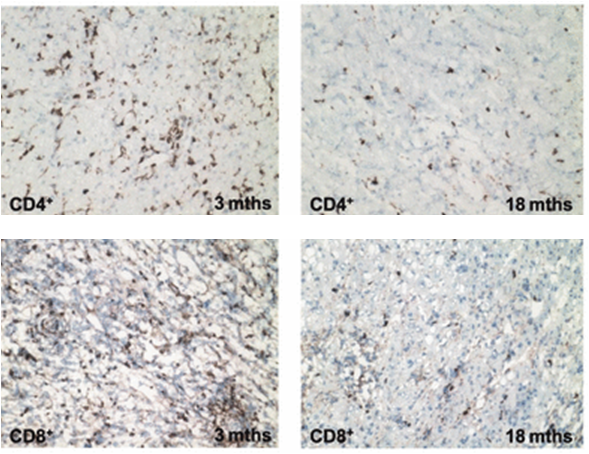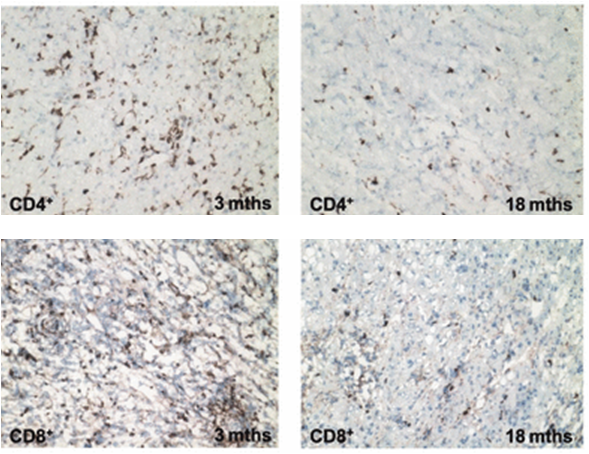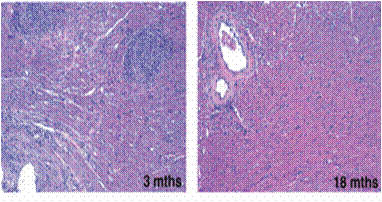 Obesity and Transplantation
The global prevalence of overweight and obesity has shown a dramatic increase and represents a challenge in transplantation medicine. The prevalence of obesity (BMI ≥ 30) among kidney allograft recipients has reached 30%.  Despite a growing number of clinical reports of inferior outcomes and higher complication rates in obese transplant recipients, a more profound understanding of the obesity-related changes to immune responses relevant to organ transplantation is still lacking.
Recent evidence has conceptualized obesity as a chronic inflammatory condition. Of additional clinical relevance in transplantation, some reports have shown more frequent acute rejections and augmented allograft immunogenicity in obese recipients. Although it is known that obesity promotes inflammation, very little is known about the impact of the condition on the immune response.
In our lab, we explore the impact of obesity on immune responses. We have shown that obesity accelerates rejection. Bariatric surgery, at the same time prolongs graft survival. We are now studying targets that are detected subsequent to bariatric surgery and exploring their potential in modifying alloimmune responses and weight loss.
Role of NAD+ in Immune Regulation
A better understanding of the causes of the alteration in immune responses during inflammation has the potential to unravel new targets that will pave the way for novel therapeutic approaches.
Using disease animal models that reflect human pathology/inflammation, including autoimmune disease and transplantation, our lab has shown that the natural cofactor NAD+ is able to regulate CD4+ T cell differentiation independently of cytokine milieu and well established transcription factiors. Building on this finding, our laboratory is working to elucidate the role of NAD+ in two distinct aspects:
The role of NAD+ as a regulator of the immune system
The clinical therapeutic potential of NAD+ during inflammatory responses
Tullius SG, Biefer HR, Li S, Trachtenberg AJ, Edtinger K, Quante M, Krenzien F, Uehara H, Yang X, Kissick HT, Kuo WP, Ghiran I, de la Fuente MA, Arredouani MS, Camacho V, Tigges JC, Toxavidis V, El Fatimy R, Smith BD, Vasudevan A, ElKhal A. NAD+ protects against EAE by regulating CD4+ T-cell differentiation. Nat Commun. 2014; 5:5101.
ElKhal A., Rodriguez Cetina Biefer , Uehara H., Heinbokel T, Quante M., Krenzien F., Camacho V., Seyda M, Schuitenmaker J, de la Fuente M. A., Ghiran I, Tullius S. G. NAD+regulates Treg cell fate and promotes allograft survival via a systemic IL-10 production that is CD4+CD25+Foxp3+ T cells independent. Sci. Rep. 2016; 6:22325.
Adaptive Features in Innate Immunity and Transplantation
The immune system has traditionally been divided into innate immune cells and adaptive immune cells.  Innate immune cells have been considered short-lived, with the capacity to respond rapidly and in a non-specific fashion.  Adaptive immune cells have been characterized as having a highly specific response initiated in a delayed fashion. Although immunological memory has generally been considered as exclusive to the adaptive immune responses of T cells and B cells, recent studies have demonstrated that innate immune cells also have the potential to acquire memory.
Recent studies have indicated that activated NK cells and macrophages participate in the immune response after transplantation. Despite these intriguing findings, our knowledge on the adaptive features of innate immune cells remains in its infancy, and the mechanisms of antigen recognition as part of a memory function remain unclear.
An enhanced understanding of the adaptive features of innate immunity should contribute to a broader knowledge of host defenses and has the potentianl to lead to the development of novel immunotherapeutic approaches in organ transplantation. Our lab seeks to advance this understanding.
Adaptive immune responses appear to shift to a more dominant innate immune response in aging, immunosuppression or –exhaustion.  We have now evidence that those aspects are of relevance in transplantation and dissect these mechanisms in our experimental model.
Seyda M, Elkhal A, Quante M, Falk CS,

 

Tullius

 

SG. T Cells Going Innate. 

Trends Immunol. 2016 Aug; 37(8):546-56.

Borges TJ, O'Malley JT, Wo L, Murakami N, Smith B, Azzi J, Tripathi S, Lane JD, Bueno EM, Clark RA,

 

Tullius

 

SG, Chandraker A, Lian CG, Murphy GF, Strom TB, Pomahac B, Najafian N, Riella LV. Codominant Role of Interferon-γ- and Interleukin-17-Producing T Cells During Rejection in Full Facial Transplant Recipients.  

Am J Transplant. 2016 Jul;16(7):2158-71.

Azzi J, Yin Q, Uehara M, Ohori S, Tang L, Cai K, Ichimura T, McGrath M, Maarouf O, Kefaloyianni E, Loughhead S, Petr J, Sun Q, Kwon M,

 

Tullius

 

S, von Andrian UH, Cheng J, Abdi R.  Targeted Delivery of Immunomodulators to Lymph Nodes.  

Cell Rep. 2016 May 10;15(6):1202-13.

Seyda M, Quante M, Uehara H, Slegtenhorst BR, Elkhal A, Tullius SG. Immunosenescence in renal transplantation: a changing balance of innate and adaptive immunity. Curr Opin Organ Transplant. 2015; 20(4):417-23.
Denecke C, Bedi DS, Ge X, Kim IK, Jurisch A, Weiland A, Habicht A, Li XC, Tullius SG. Prolonged graft survival in older recipient mice is determined by impaired effector T-cell but intact regulatory T-cell responses. PLoS One.  2010; 5:2.
Recipient Age Prolongs Allograft Survival

Endothelial Injury During Organ Preservation
During preservation, organs for transplantation are temporarily deprived of blood flow and nutritional support. The vascular endothelium, a cell layer located between the blood vessel wall and lumen, acquires a vasoprotective phenotype in response to pulsatile blood flow.
Long-standing collaborative efforts with the García-Cardeña Laboratory (PI: Guillermo Garcia-Cardeña, Director of the Laboratory for Systems Biology at the Center for Excellence in Vascular Biology, BWH), have established that the endothelium becomes dysfunctional subsequent to the cessation of flow, promoting processes such as coagulation and inflammation that negatively impact organ quality and accelerate alloimmune responses.
In a continuation of this collaboration, we are currently moving from the identification of general vascular descriptors to an analysis of endothelial molecular pathways that induce a flow mediated vasoprotective phenotype. With this approach we expect to characterize novel molecular targets responsible for maintaining endothelial function, and improve organ preservation.
Pang P, Abbott M, Chang SL, Abdi M, Chauhan N, Mistri M, Ghofrani J, Fucci QA, Walker C, Leonardi C, Grady S, Halim A, Hoffman R, Lu T, Cao H, Tullius SG, Malek S, Kumar S, Steele G, Kibel A, Freedman.

 Human vascular progenitor cells derived from renal arteries are endothelial-like and assist in the repair of injured renal capillary networks. 

Kidney Int. 2016 Sep 29. pii: S0085-2538(16)30423-9

Timsit MO, Adams WJ, Laguna-Fernandez A, Ichimura T, Bonventre JV, García-Cardeña G, Tullius SG: Flow is critical for maintaining a protective phenotype in renal proximal tubular cells. Am J Transplant. 2013; 3(6):1617-8.
Yuan X, Theruvath AJ, Ge X, Floerchinger B, Jurisch A, Garcia-Cardena G, Tullius SG. Machine perfusion of cold storage in organ transplantation:  indication, mechanisms, and future perspectives.  Transpl Int. 2010; 6:561-570.
Tullius SG, Garcia-Cardena G. Organ procurement and perfusion before transplantation. N Engl J Med. 2009; 360(1):78-80.